The morning of Monday, October 18, 2021, will forever remain one of the memorable days in the Tarkwa Nsuaem Municipality of the Western Region. They woke up in the morning to the very tragic news of armed robbers attacking a popular supermarket in the area.
A bullion van from one of the popular banks was at the RANSBET Super Market to collect their sales for the weekend to be credited to its account. The officers of the bank parked their vehicle at the parking space of the bank and went for the unspecified amount of money.
As they were returning from the supermarket with the money, an armed robbery gang including a lady and two young men arrived on a motorbike unmasked with a gun
They started firing warning shots to disperse the crowd and moved straight to the staff of the bank who was holding the money. They shot into the bullion van and forcefully took the money from them and bolted with their motorbike again.
The driver of the bullion van tried to chase the armed robbers but due to the crowd and traffic in the area, the motor had its way through and left without a trace.
Onlookers who were at the scene became worried about how the armed robbers were able to know that monies will be transported from the Supermarket at that particular point in time.
The Tarkwa Divisional police command moved to the scene to ascertain the situation and investigations have begun. In the meantime, the supermarket is still operating amidst fear and panic.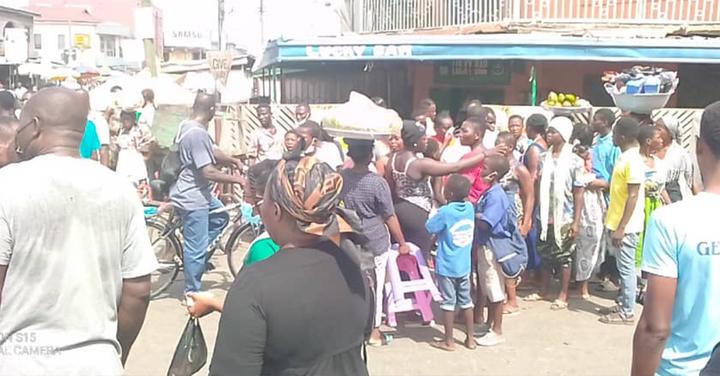 The other aspect of the issue according to eye witnesses whose name has been given as Stephen Amoah in a Telephone interview with Skyy Power FM in Takoradi and monitored by BeaNana is that the bullion van of the bank came without a police escort.
Probably, they thought it was safer to transport the cash in the early morning. The police must be swift in investigating both workers of the Supermarket and the bank because the situation beats imagination.
Some persons who were at the scene believe that an insider must be working with the armed robbers and that could have triggered the attack.
The post Tarkwa: Bullion Van Attacked By Unmasked Gang appeared first on Ashaiman Online.
This content was originally published here.