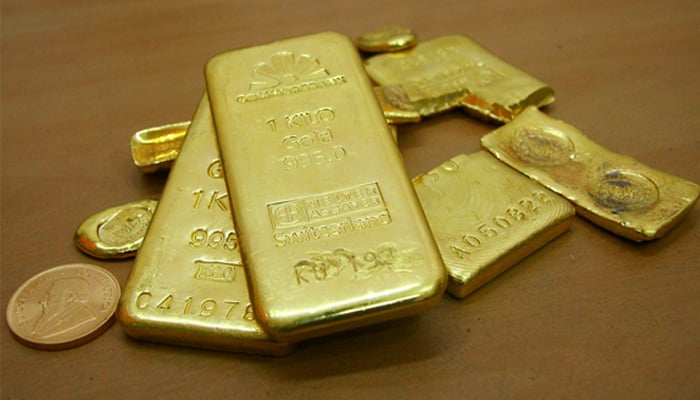 KARACHI: The price of gold resumed its uptrend in the domestic market and rose by Rs1,300 to close at Rs112,300 per tola on Saturday in line with the surge in the international bullion market.
The rates went up by Rs1,300 per tola to Rs112,300 and surged by Rs1,115 per 10-grams to Rs95,165 compared to Thursday's prices.
Gold prices clocked in at R111,050 per tola and Rs95,165 on Thursday (September 2).
Gold advanced internationally as a slower-than-expected US jobs growth in August drove the dollar lower, casting doubts on the Federal Reserve's tapering timeline, which provided support to the yellow metal.
International gold prices also increased by $13 to close at $1,830.25 on Saturday.
Gold is considered one of the safest investments; hence, its price is skyrocketing as investment is pouring in at a rapid pace. Since the dollar continues to weaken day after day, investors' confidence in the currency has tumbled and they have diverted their investment to gold.
Speaking to Geo.tv, AA Commodities Director Adnan Agar said: "Gold prices increased on the back of dismal US employment data."
The analyst added that gold prices recorded a significant increase because the US dollar lost ground in the international market.
"Bullion prices are expected to increase further during the next week," Agar predicted.
However, it is pertinent to mention that the gold rates in Pakistan are around Rs4,000 below cost compared to the gold rate in the Dubai market.
Meanwhile, silver prices remained unchanged at Rs1,430 per tola and Rs1,226 per 10 gram on Saturday.
This content was originally published here.