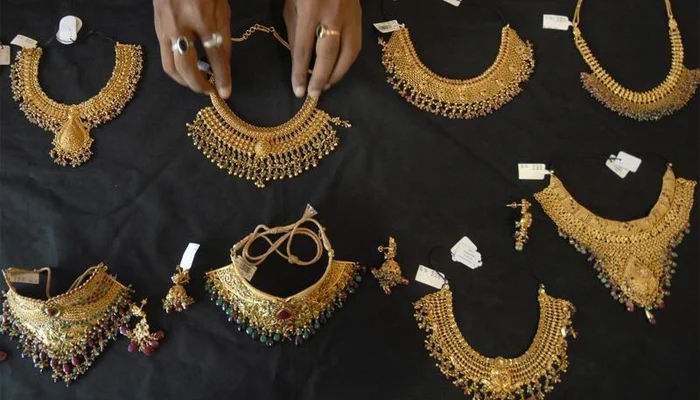 KARACHI: Gold lost its shine, as it declined almost by Rs7,800 per tola to Rs124,200 in Pakistan on Wednesday in line with global markets.
Bullion prices in the local market recorded a decrease of Rs7,800 per tola and Rs6,687 per 10 grams to settle at Rs124,200 per tola and Rs106,481 per 10 grams.
It receded $15 per ounce to around $1,789 in the international market, according to All Sindh Saraf Jewellers Association (ASSJA).
Speaking to Geo.tv, AA Commodities Director Adnan Agar said the precious commodity was under double pressure today because of massive appreciation in the local currency and uncertainty in global markets.
"Locally, the price of the yellow metal is expected to flow with the value of the currency," he said.
The Pakistani rupee rebounded on Wednesday, sharply recovering to Rs172.78 against the US dollar in the inter-bank market after Saudi Arabia announced that it was depositing $3 billion in the State Bank of Pakistan (SBP) to help support its foreign reserves.
Gold hit an all-time high of Rs132,000 per tola in Pakistan on Tuesday because of a significant depreciation of the rupee against the US dollar.
Gold was attracting safe-haven investment since last week because investors, who used to pour money into foreign currencies, particularly in the US dollar to avoid the impact of inflation, were buying gold because the government and the central bank have tightened regulations about the purchase of foreign currencies in the open market.
During the period from October 18-26, the price of gold surged Rs14,000.
It is pertinent to mention that gold rates in Pakistan are around Rs2,000 below cost compared to the gold rate in the Dubai market.
Meanwhile, silver prices in the domestic market recorded a decrease of Rs40 per tola and Rs34.29 per 10 grams to settle at Rs1,480 per tola and Rs1,268.86 per 10 grams today.
This content was originally published here.